Granty
Rozdelili sme zelené granty ďalším ôsmim projektom po celom Slovensku
Každý jeden grant, ktorým dokážeme niekomu na Slovensku pomôcť v úsilí zachraňovať prírodné dedičstvo, v nás vzbudzuje radosť a satisfakciu. Ľudia, ktorí venujú svoj čas a energiu na neprestávajúcu činnosť pre budúcnosť nás a našich detí, potrebujú na Slovensku nevyhnutne spojencov v korporátnom sektore. Práve s týmto zámerom rozdeľujeme naše Envirogranty.
05/01/2023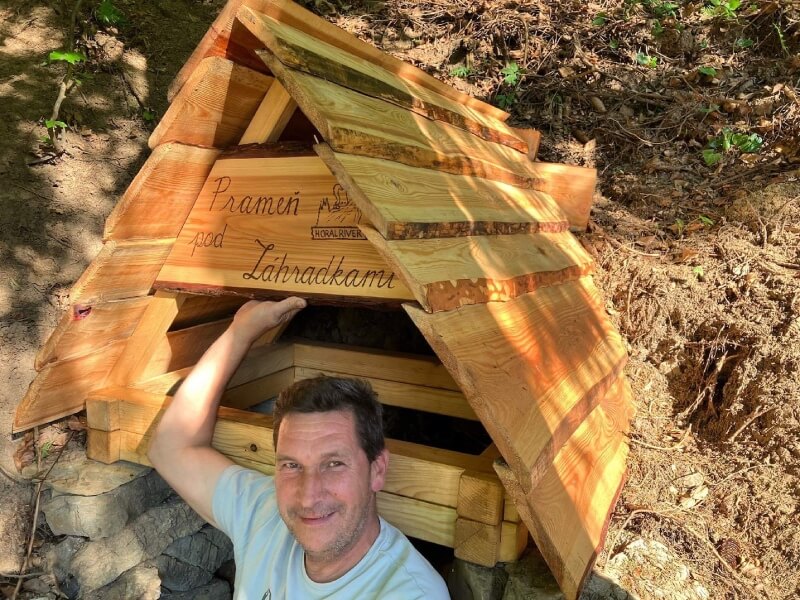 Dobrodružná hra, ktorá pritiahne deti do prírody, záchrana vtákov a živočíchov, ktoré strácajú domov kvôli obnove hradu, čistenie a obnova horských prameňov v Malej Fatre – to je niekoľko príkladov užitočných projektov, ktoré získali na konci roku podporu z nášho programu Envirogranty. Z našej Nadácie VÚB sme tak už po tretíkrát podporili občianske združenia a ochranárske organizácie, ktoré majú dlhodobú víziu a plán chrániť prírodu, zvrátiť hrozbu klimatickej krízy a šíriť princípy udržateľného života. Komisia odborníkov vybrala osem projektov s očakávaným najväčším dopadom, medzi ktoré putovali granty v celkovej výške 50-tisíc eur.
Od nového roku tak môžu rozbehnúť svoje iniciatívy zamerané na boj proti narastajúcej strate biodiverzity či rozvoj harmonického vzťahu prírody a cestovného ruchu tieto organizácie:
Združenie Slatinka (Zvolen) – Združenie zmapuje údolie rieky Slatina a identifikuje lokality, kde bude s dobrovoľníkmi realizovať opatrenia na podporu biodiverzity. S cieľom osvety o hodnotách územia usporiada verejné vychádzky, osadí informačné tabule a vytvorí novú kampaň – lokálnu značku pre prírodný turizmus Riekoles.

STEFANI n.o. (Žarnovica) – Projekt vytvorí dobrodružnú hru pre deti v areáli Pekného lesa, ktorej zmyslom je vrátiť ich do prírody a budovať v nich úctu k nej i k sebe navzájom. Účelom hry je aj terapia energiou z prírody a získavanie zážitkov, aké deti inde nezažijú. Súčasťou zámeru je aj vybudovanie centra agroturizmu, ktoré bude v danom kraji jedinečné.

Rodičia a priatelia ZŠ M. Hella v Štiavnických Baniach – Iniciátori projektu majú plán zorganizovať medzinárodný filmový KLÍMAedu festival. Jeho podstatou je tvorba školských filmov na tému klimatickej krízy, ktoré vytvoria deti vo viacerých krajinách, a ich následné uvedenie a ocenenie. Projekt pomôže zvýšiť aj povedomie o tom, ako aktívne chrániť lokálnu biodiverzitu.

Správa mestskej zelene v Košiciach – Podporený projekt sa dotkne 7 mestských častí Košíc, a to najmä výsadbou nových stromov, kríkov, premenou sterilných zelených pásov na kvetinové ostrovy, rozmiestnením úkrytov pre vtákov, netopiere a ďalšie drobné cicavce. Jeho cieľom je aj osveta, ktorá povedie k opusteniu zlých návykov, napríklad zimného prikrmovania vtákov.

OZ HORAL RIVER (Žilina) – Združenie má dlhoročné skúsenosti v čistení a obnove zanedbaných horských prameňov v Malej Fatre. Miestni dobrovoľníci chcú vyčistiť a obnoviť ďalšie pramene a k tomu vytvoria turistický náučný chodník Kuneradské studničky, ktorý ich bude všetky spájať. Výsledok ich práce ocenia nielen turisti, ale aj lesná zver a celý lesný ekosystém v regióne.

OZ Castrum Thorna (Turňa nad Bodvou, okres Košice – okolie) – Kvôli obnove hradu Turňa sa začali z tohto miesta vytrácať živočíchy, ktoré obývali jeho dutiny a praskliny. V projekte budú do múrov zakomponované náhradné úkryty pre dážďovníky a netopiere, budú vytvorené chránené liahniská pre jašterice, na múry budú vysadené skalničky a živné rastliny pre vzácne motýle.

OZ Naše Zálesíčko (Zálesie, okres Senec) – Združenie chce prinavrátiť meandru Malého Dunaja pri Bratislave naturálny charakter, s týmto zámerom realizuje opatrenia na zadržiavanie vody v krajine. Súčasťou projektu je aj vybudovanie malého dreveného móla a dosadenie pôvodných drevín lužného lesa, obnova brehového porastu a podpora tradície zberu byliniek.

CEEV Živica (Zaježová, okres Zvolen) – OZ chce vybudovať poznávací ekochodník vo vulkanickom pohorí Javorie, ktorý prehĺbi zážitok návštevníkov z ich pobytu v prírode. V rámci projektu Umenie zaježovského lesa ich budú sprevádzať vizuálne, akustické či dotykové inštalácie land-artovej tvorby, na rozvoji ktorých sa budú môcť i sami priamo podieľať.
Veríme, že tieto projekty nielen prospejú samotnej prírode a životnému prostrediu, ale budú tiež fungovať ako inšpirácia. Prajeme si, aby sa vďaka ich príkladu ľudia po celom Slovensku rozhodli myslieť a konať ekologickejšie, a tiež aby sa k tomuto celospoločenskému hnutiu pridali aj ďalšie firmy svojimi zdrojmi a zmenou vlastného správania.