VÚB Mobil Banking, vaša banka vo vrecku od novembra s novými funkciami
"
Žiadne otváracie hodiny, čakanie na pripojenie sa k počítaču a strácanie času. Túžba mať svoj účet a banku vo vrecku nonstop je vo VÚB realitou. A od novembra aj s novými užitočnými funkciami.
Mobil banking zmení život platenia a fungovania osobných peňazí na nepoznanie. Aplikácia VÚB Mobil Banking je v súčasnosti najefektívnejší, najpohodlnejší a najrýchlejší spôsob dennej obsluhy vlastných peňazí. Súčasne je to najlacnejší spôsob, svet oslobodený od poplatkov a dodatočných výdavkov.
Inštalácia aplikácie je jednoduchá, trvá len niekoľko minút. Podmienkou je mať zriadený Internet banking. Na prihlásenie do aplikácie slúži 4-miestny PIN, nedostane sa do nej nikto cudzí ani v prípade, že stratíte telefón. Aplikáciu možno nainštalovať na viac zariadení.
Viac nastavení "na mieru"
Po úpravách tento rok je aplikácia pre bežného užívateľa maximálne flexibilná. VÚB neponúka jediný správny postup, ale poskytuje slobodu nastavenia peňaženky v mobile. Na domovskú stránku si môžete "vytiahnuť" 5 funkcií, ktoré chcete používať najčastejšie. Ovládanie je prehľadné aj vďaka widgetu v podobe "blesku". Aj obľúbené platby, ktoré využívate najmä na odoslanie peňazí z účtu platobným partnerom budú tak dostupné už priamo po prihlásení ako Rýchle platby. Viete si tiež zvoliť, či chcete vidieť úvodný graf informujúci o dostupných peniazoch na účtoch a kartách.
Len otlačkom prsta
Majitelia absolútnej väčšiny novších mobilov – s operačným systémom Android aj iOS - sa môžu prihlasovať do aplikácie pomocou odtlačku prsta. Je to bezpečný preverený spôsob, nemusíte používať 4-miestny PIN pre vstup do aplikácie.
Pomôže aj s návštevou pobočky
Pre tých, čo predsa len potrebujú navštíviť banku alebo nájsť najbližší bankomat je dostupných aj viac informácií o sieti pobočiek a bankomatov VÚB na celom Slovenku.
Peniaze pod kontrolou, faktúry bez starostí...
Mať účet stále pod kontrolou je výhodou vďaka funkcii Rýchly zostatok. Jediným pohybom po displeji telefónu si preveríte disponibilný zostatok na účte. Môžete si nastaviť zobrazenie presnej sumy alebo zostatku v %.
So službou Scan & Pay môžete zabudnúť na 24-miestne čísla účtov a ďalšie potrebné údaje platby, mobil si všetko zistí sám – naskenovaním IBAN čísla, prípadne načítaním kódu (QR alebo EAN kód).
...od novembra aj s novými funkciami
Mobil sa stane vaším neoceniteľným pomocníkom pre všetky situácie spojené s výdavkami. S VÚB Mobil bankingom budete vďaka novým funkciám zavedeným počas novembra vedieť napríklad aj to, čo vás do konca mesiaca čaká. Stačí ak si na domovskej stránke nájdete prehľad plánovaných platieb, teda sumár čakajúcich platieb a trvalých príkazov do konca kalendárneho mesiaca. Tento údaj sa aktualizuje vždy podľa dňa, kedy si platby pozeráte.
Dokonalý prehľad o svojich účtoch, kartách či úveroch tiež získate vďaka výpisom, ktoré si po novom viete vygenerovať a zaslať na email za každý produkt zvlášť. Dostupné sú za posledných 18 mesiacov od aktuálneho dátumu.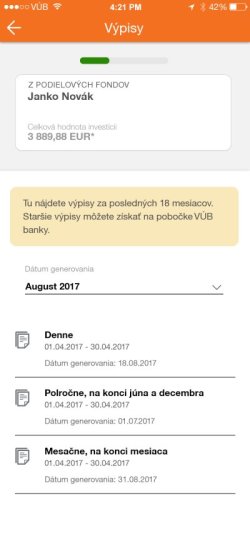 Ak ste si nie istý, či ste zaplatili napríklad faktúru za telefón, použite novú možnosť filtrovania platieb podľa platobného partnera. Stačí zadať názov platobného partnera, zvoliť si debetné transakcie a časové obdobie. Výsledok sa vám zobrazí za pár sekúnd.
Svoje investície máte priam pod drobnohľadom. Pozrieť si môžete prehľad podľa produktov a následne aj rozdelenie do jednotlivých fondov. Od novembra pribudli grafy, prehľadné rozdelenie investícií podľa meny a tiež prepočet do meny eur v prípade investícií v cudzích menách.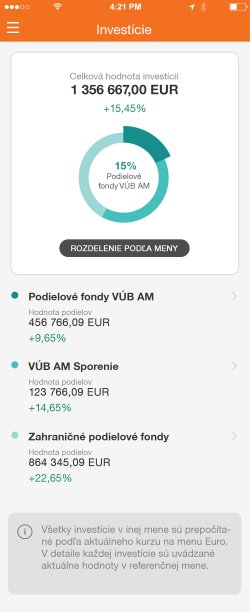 Mobil banking je skrátka všetko, čo potrebujete!
"