Magnifica starostlivosť VÚB: garantujeme pohodlie a dobré riešenie
"
Magnifica pomáha rýchlo a dobre sa orientovať vo svete financií, poskytuje individuálny prístup a garantuje riešenia na mieru. O službách a výhodách tohto konceptu sme sa rozprávali s Ing. Jurajom Fialom, riaditeľom najväčšieho Magnifica centra situovaného v bratislavskom centre Eurovea.
Prečo VÚB banka vytvorila Magnifica centrá?
Hľadali sme nový koncept starostlivosti o významných klientov VÚB. Preto sme služby osobných bankárov sústredili do osobitých Magnifica centier. V nich sme rozšírili poskytované služby a pridali pohodlie a komfort. Magnifica centrá sú teda samostatné bezhotovostné a priestorovo oddelené pobočky nachádzajúce sa buď v jednej budove s veľkou klasickou pobočkou, alebo v jej tesnej blízkosti. Cieľom bolo umiestniť centrá tak, aby klienti na jednom mieste vybavili všetko, čo potrebujú.
Sú tieto centrá dostupné na celom Slovensku?
Celkovo má VÚB osem Magnifica centier v krajských mestách (Bratislava, Trnava, Trenčín, Žilina, Nitra, Banská Bystrica, Prešov, Košice) a súčasne 26 Magnifica pobočiek vo vybraných okresných mestách.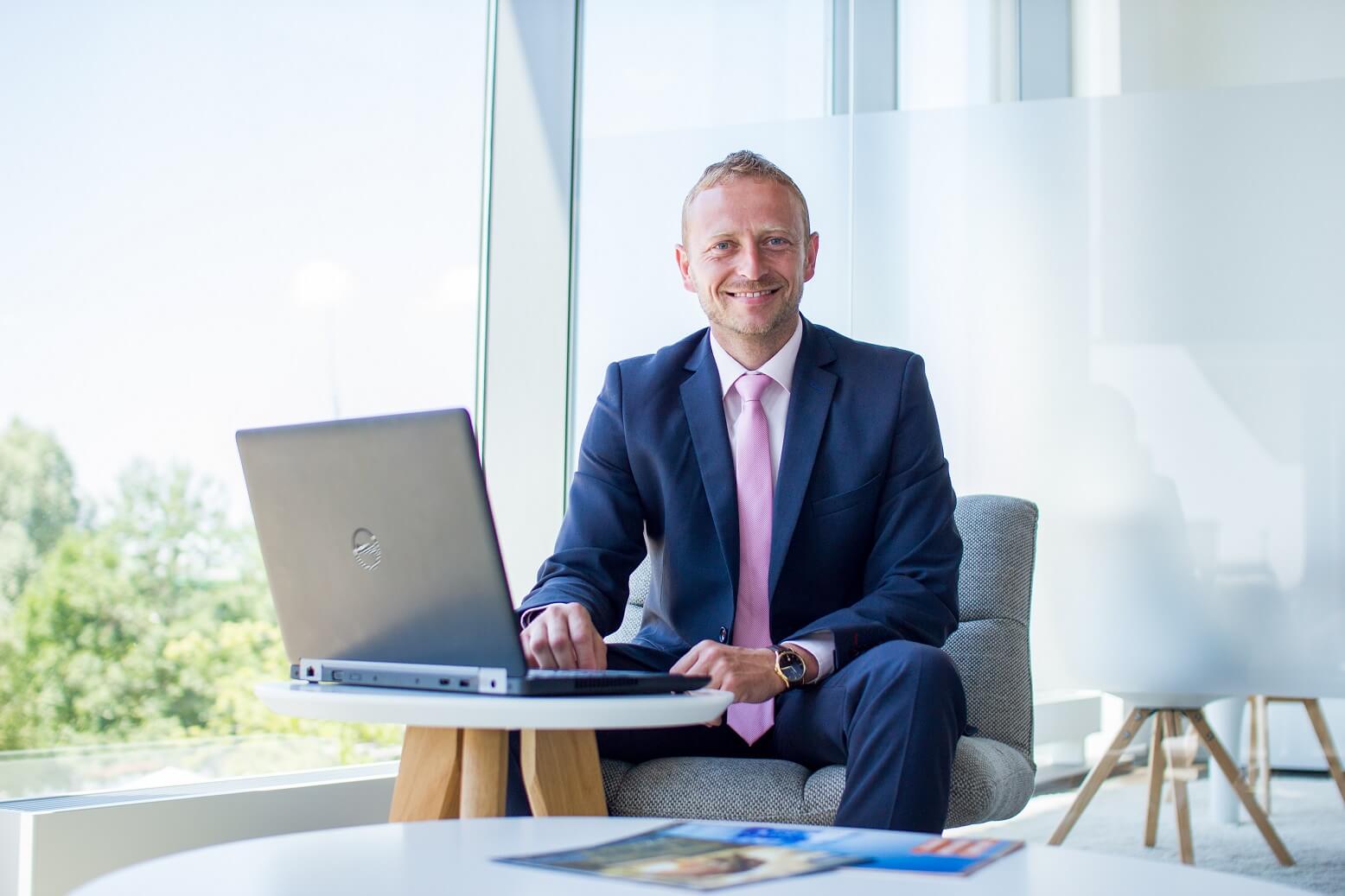 Aké nadštandardné služby v Magnifica centrách klient získa?
V prvom rade klienti nečakajú v rade, stretnutia s osobným bankárom sú dohodnuté vopred. Cieľom je, aby sa klienti v Magnifica centre cítili výnimočne. Tento pocit umocňuje nielen sofistikovaný osobný bankár, ale napríklad aj asistentka, ktorá pri vchode klientov privíta a usadí. Samozrejmosťou je nadštandardný servis v podobe kávy, dennej tlače, WIFI a diskrétneho priestoru. Ak klienti riešia napríklad hypotéku, všetky náležitosti vrátane administratívy na katastri za nich vybaví hypotekárny špecialista centra. Ide o bezhotovostné pobočky, preto sa pre hotovostné operácie v priestoroch nachádzajú bankomaty s vkladovým modulom, alebo hotovostné operácie vybavia klienti prednostne v sprievode asistentky v klasickej pobočke, ktorá sa nachádza v blízkosti každého Magnifica centra.
V čom je pridaná hodnota osobného bankára?
Sme presvedčení, že práve cez služby osobného bankára vedie cesta k vyššej spokojnosti klientov. Je dôležité mať vo svete financií partnera, na ktorého sa môžete vždy obrátiť a spoľahnúť, komu môžete dôverovať. Osobný bankár je pre klienta ,,kormidlo" financií, pomáha mu znižovať stres pri neočakávaných zmenách, disponuje jedinečnými a cennými radami. A to keď sa klientovi darí, ale aj keď sa udejú v jeho živote opačné situácie.
Aký je najvýznamnejší benefit Magnifica centier a pobočiek?
Jednoznačne skúsený osobný bankár. Takýto partner na strane banky má pre klienta dostatok priestoru a času a pozná jeho finančný život. Osobný bankár dokáže poradiť a vybrať produkty od VÚB Účtu Magnifica ,cez platobné karty, až po financovanie jeho súkromných či pracovných zámerov vo forme úverov alebo zhodnocovania jeho voľných finančných prostriedkov v Magnifica fondoch. Súčasťou ponuky je dostatočná ochrana pred rizikovými situáciami v rámci partnerstva s Generali poisťovňou. Ide o produkty s názvom Magnifica, ktoré sú štruktúrou a charakterom cielene nastavené sledovaným potrebám klientov. Osobný bankár dokáže najlepšie pripraviť na mieru šité Finančné plánovanie, akési zrkadlo finančného života klienta.
Vaši osobní bankári sú certifikovaní. Čo to znamená pre klienta?
Vo VÚB si veľmi dobre uvedomujeme, že osobný bankár sa dokáže zodpovedne starať o financie klientov, len ak má dostatok skúseností, znalostí z praxe a vysoko profesionálne správanie. Aby sme dokázali takýchto osobných bankárov vyselektovať, prechádzajú certifikáciou. Pri testovaní sa zameriavame na dve stránky osobnosti. Prvá je znalostná, osobný bankár musí veľmi dobre poznať produkty a skutočne rozumieť svetu financií. Druhá stránka je zameraná na komunikáciu a vystupovanie. Tím osobných bankárov tvoria najlepší ľudia z oblasti obsluhy a predaja vo VÚB banke.
Šéfujete Magnifica centru v bratislavskom nákupnom centre Eurovea. Toto je úplne špecifický priestor aj v rámci existujúcich Magnifica centier. V čom?
Sme výkladnou skriňou VÚB banky. Klientovi sme k dispozícii sedem dní v týždni s tímom
18 osobných bankárov. Profesionálne a zodpovedne sa staráme o klientov, aby sme boli ich jedinou voľbou vo svete financií.
Vo vašich priestoroch je k dispozícii aj samoobslužná zóna. Čo ponúka?
Naše skúsenosti hovoria, že klienti zvyčajne prichádzajú vyriešiť naraz viac požiadaviek. Bežné hotovostné operácie, aj koncepčnejšie nastavenie svojich peňazí s osobným bankárom. Preto je v samoobslužnej zóne k dispozícii vkladový modul na bankomate, kde ho naviguje asistentka. Podobne pri káve a minerálke môže využiť mobilné zariadenia, tablet a wifi pripojenie. Ak je potrebné počkať pár minút, môže klient sledovať televíziu alebo si len vychutnať krásny výhľad na Dunaj s upokojujúcou hudbou.
Vnímajú klienti odlišný model obsluhy vo vašom centre? Prekvapili vás niektoré reakcie?
Ide o nový model obsluhy, na ktorý si klienti rýchlo zvykli. Emócia je veľmi silná a pozitívna. Preto majú dôvod sa k nám vrátiť znova. A to je to najcennejšie. Podstatné je, aby klient hneď pri prvej návšteve zistil, že je pre banku výnimočný.
Aké novinky v rámci Magnifica plánujete?
S tímami osobných bankárov analyzujeme potreby na dennej báze. Veríme, že s rastúcou návštevnosťou Magnifica centier budú pribúdať stále aj nové a nové Magnifica služby a produkty.
"