Globálna ekonomika naberá vietor do plachiet
12.07.2017
"
Globálne prieskumy dôvery naznačujú dobrý stav ekonomiky, ba dokonca dávajú nádej aj pre jej akceleráciu. Kolegovia z ekonomického výskumu našej materskej banky Intesa Sanpaolo očakávajú zrýchlenie medziročného rastu svetovej ekonomiky z minuloročných predpokladaných 3,0% na 3,4% v roku 2017.

Najvýraznejšie sa pod toto zrýchlenie podpisujú rozvíjajúce sa ekonomiky Ruska a Brazílie, ktoré sa po recesii v predošlých dvoch rokoch vracajú opäť k rastu. Jedným zo základných faktorov, na ktoré nemôžeme zabudnúť, je nárast cien komodít, ktorý pomohol krajinám ich producentov. Odrazilo sa to aj na zdravšom raste krajín združených v organizácii OPEC. Rozvinuté ekonomiky majú rok 2017 našliapnutý tiež dobre, tak USA ako aj eurozóna by mali rásť rýchlejšie ako v predošlom roku.

Nálada a očakávania medzi podnikmi vo svetovej ekonomike stúpli
Globálne PMI indexy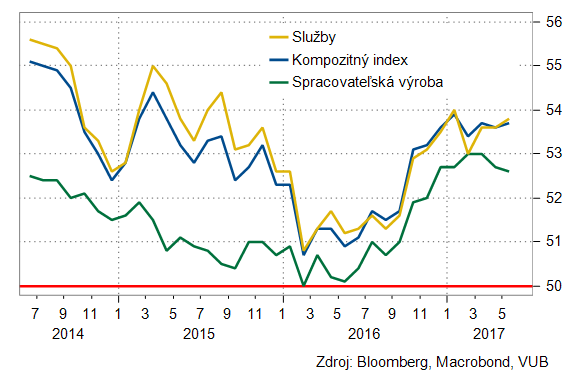 Poznámka: Rast indexu predstavuje lepšie celkové hodnotenie produkcie, objednávok, zásob, zamestnanosti, cien, atď.. Hodnota indexu nad 50 predstavuje očakávaný rast aktivity, hodnota pod 50 predstavuje očakávania poklesu.
Viacero významných rizík sa pominulo
Napätie na finančných trhoch ale ostatného pol roka rozhodne nechýbalo. V USA nastúpil do úradu kontroverzný prezident Trump. V eurozóne naberali na sile euroskeptické strany, čo predstavovalo veľké riziko akcieschopnosti únie a zaváňalo aj podkopaním základov celého systému spoločnej ekonomiky. Nakoniec však investori nástup Trumpa prečítali ako nový impulz pre rast ekonomiky, i keď neskôr prehnané očakávania začali zreálňovať.

Voľby vo Francúzsku a Holandsku ukázali voľbu ľudí smerom k eurozóne, ďalšie pokusy o výstup z únie sa tak nekonali. Optimizmus v Európe preto nabral vietor do plachiet. Nálada medzi nákupnými manažérmi v eurozóne je najvyššia za ostatných 6 rokov. Sentiment medzi nemeckými podnikmi podľa niektorých významných indikátorov vystúpil vôbec na najvyššiu úroveň v histórii merania.

Klíma v nemeckom podnikateľskom prostredí
Index IFO, Nemecko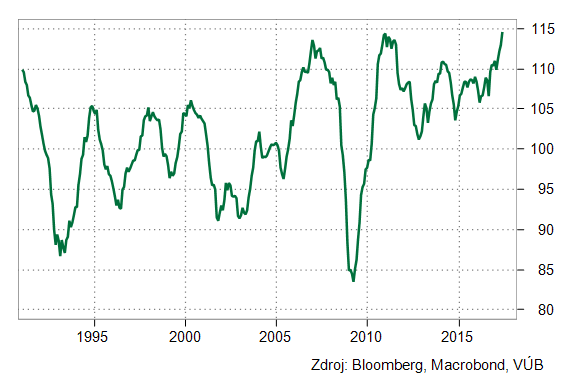 Hoci sa ekonomike darí, inflácia ostáva až neprirodzene utlmená
Zdá sa, že extrémne uvoľnená menová politika začala v reálnej ekonomike prinášať ovocie. Teda až na jednu sféru a tou je vývoj cien. Európska ekonomika, ktorá je pre nás najdôležitejšou – Slovensko má spomedzi všetkých krajín najvyšší podiel exportu v rámci EÚ, takmer 90% - rástla dostatočne rýchlo na to, aby sa jej darilo znižovať mieru nezamestnanosti, z maxima 12,1% aktuálne až k 9%. Viac ľudí tak má prácu a vyššie príjmy, rast ekonomiky môže akcelerovať. Tak hovorí ekonomická teória.

A skutočne, dáta reálnej aktivity v eurozóne ostatné mesiace prekvapovali takmer kontinuálne smerom nahor a na prvý pohľad by sa zdalo, že sa k cieľu priblížila aj inflácia. Menovú politiku ale zaujíma rast spotreby, ktorý sa pretaví do zvýšených inflačných tlakov. A tie zatiaľ neprišli. Rast cien očistený o tie položky, ktoré sú ťahané skôr z nákladovej strany, či prípadne kolíšu kvôli sezónnym faktorom, je stále veľmi nízky bez známky rastu. Túto zložku predstavuje takzvaná "super jadrová inflácia", ktorá je zobrazená na nasledujúcom grafe dolu.
Inflácia v eurozóne už síce nie je na minimách, ale jej skutočný trend stagnuje
r/r % rast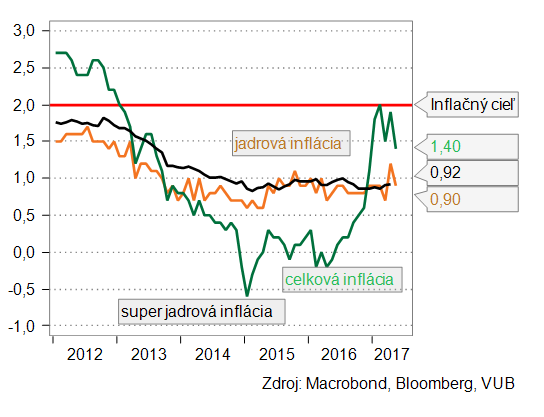 Postupujúca expanzia globálnej ekonomiky volá po normalizácii menových podmienok. Ale opatrne
Ako sme už písali vyššie, globálnej aj našej domácej ekonomike eurozóny sa darí. Medzera medzi skutočným a potenciálnym rastom, teda takým kedy sa využívajú naplno všetky výrobné kapacity, sa postupne uzatvára. To napovedá, že inflačné tlaky by mali predsa len prísť. A ak nechcú menoví politici ekonomiku prehriať a neskôr mať problémy s vysokou infláciou, tak je zrejme načase začať uvažovať o normalizácii menových podmienok.

Načasovanie ale nebude jednoduché, keďže zatiaľ inflácia v jadre nestúpa. Hrozí totiž, že by sa naštartovaný rast mohol zastaviť. V USA uvoľnili menovú politiku oveľa skôr a skôr ju aj začali normalizovať. Ale tiež sú v tom veľmi opatrní a pomalí. V eurozóne ešte s normalizáciou vyčkávame, trhy sú už ale netrpezlivé a chcú poznať detaily kedy a akým tempom Európska centrálna banka začne. Cítia totiž, že ten správny čas už je za rohom. V dlhších splatnostiach už budúci rast sadzieb začali započítavať, lebo veria, že inflácia aj sadzby hore pôjdu čoskoro. Zrejme v horizonte roka až dvoch. Dovtedy ale krátke sadzby ešte ostanú nízke.

ECB totižto zrejme bude menovú politiku normalizovať v opačnom poradí ako ju uvoľňovala. Podobne ako v USA. Z tých najdôležitejších inštrumentov teda pravdepodobne najskôr ukončí nákup aktív, teda tzv. kvantitatívne uvoľňovanie a potom bude dvíhať sadzby. Refinančná sadzba by mohla vzrásť až niekedy koncom roku 2018. Detailov k plánom a viac akcie sa ale zrejme dočkáme až na jeseň tohto roku, keď budú známe aj výsledky nemeckých volieb a rozdelenie politických síl v rámci eurozóny.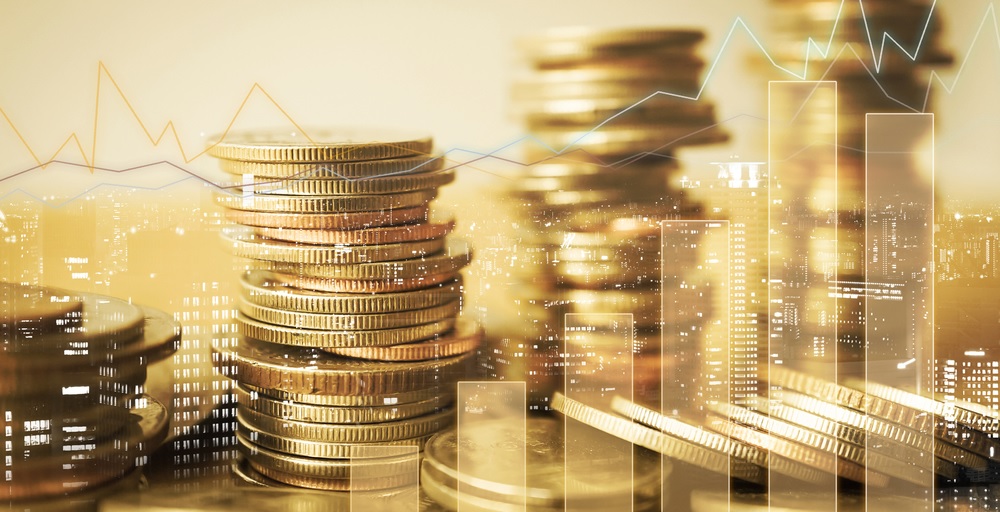 "