23.11.2017
"
Globálna ekonomika sa udržala v raste aj počas tretieho štvrťroka 2017. Expanzia by mala pokračovať aj budúci rok – len mierne ovplyvnená znížením menových stimulov a zmenami kurzov. Odhady rastu HDP na aktuálny rok sa kontinuálne zvyšovali – z globálnych ekonomík najmä v eurozóne, Číne, ale ku koncu roka aj v USA. Inflačné očakávania naopak postupne upadali. Nižšia inflácia tak dáva priestor centrálnym bankám neutralizovať menovú politiku len veľmi pozvoľne.
Index ekonomického prekvapenia zotrval zväčša pozitívny, čo znamená, že reálne dáta dosahovali lepšie než očakávané výsledky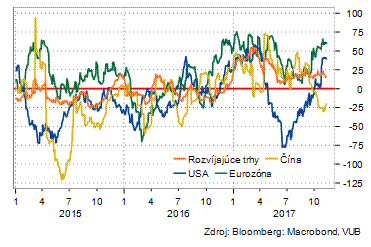 Čo sa týka spoločnej ekonomiky eurozóny, tá v aktuálnom roku zrejme dosiahne medziročný rast 2,2 %, čo je takmer o percentuálny bod viac, než sa očakávalo na začiatku roka. Rast dokonca veľmi pravdepodobne prekoná aj ten najoptimistickejší odhad, aký v januári zozbierala agentúra Bloomberg vo svojom prieskume. Dynamika však pravdepodobne už dosiahla maximum a v budúcom roku by mala spomaliť na 1,8 % r/r. Podniky sú nateraz naladené nevídane optimisticky a z tohto rastu benefitujú aj ľudia na pracovnom trhu, či už vo forme nových pracovných príležitostí, alebo vo forme rastúcich miezd.
PMI indexy: Dôvera podnikov je blízko niekoľkoročných maxím, očakávajú totižto ďalší rast aktivity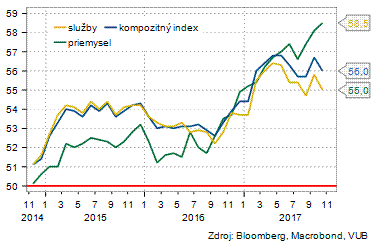 Ekonomický rast sa ale stále prelieva len do podhodnoteného zvyšovania spotrebiteľských cien. Inflácia je slabšia než stanovený cieľ 2 % r/r a budúci rok zrejme oproti tomu aktuálnemu ešte spomalí. Posilnenie eura voči menám relevantných obchodných partnerov od druhej polovice tohto roka dodatočne znižuje ceny dovozov a brzdí rast inflácie. Návrat k dvojpercentnej hranici v prognózovanom horizonte do roku 2019 neočakáva ani samotná ECB.
Rast cien stále zaostáva za výkonom ekonomiky, y/y inflácia v eurozóne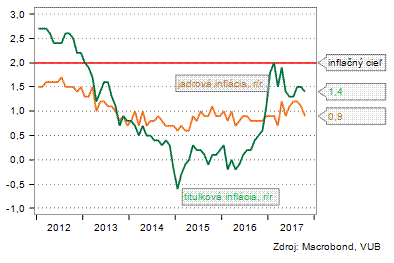 Menová politika tak dostáva nejednoznačné signály. Na jednej strane stojí solídny rast ekonomiky, prehrievanie trhu nehnuteľností niektorých regiónov či očividný pokles miery nezamestnanosti. Na druhej strane je jej hlavným cieľom reagovať na pomalý rast cien. Keď sa však sadzby začnú hýbať, ostáva priestor už len na rast. Americký Fed s dvíhaním sadzieb začal už v roku 2015. Postupoval však veľmi opatrne. Viditeľnejšie zdvihol sadzby až v aktuálnom roku, keď navyše začal sprísňovať menovú politiku aj cez znižovanie ponuky peňazí. To vytvára určitý tlak aj na ECB, tá sa však zatiaľ rozhodla držať sadzby na historicky nízkych úrovniach ešte dlhodobo. V roku 2018 bude minimálne do septembra pokračovať v nákupe aktív, čím priamo brzdí rast dlhých sadzieb, no oproti aktuálnym mesačným objemom budú nákupy od januára len polovičné. To, ako bude pokračovať po septembri 2018, ešte nie je jasné, no možnosti ďalej nakupovať sú veľmi oklieštené, aj do dĺžky, aj do objemov. Dlhopisy, ktoré by ECB mohla kúpiť, sa budú hľadať už len ťažko. Oficiálne sadzby sa meniť nebudú ešte nejaký čas ani po ukončení týchto nákupov. Prvé zvýšenie refinančnej sadzby možno očakávať najskôr v polovici roka 2019.
Európa zažíva relatívne dobré časy, a tak je tu priestor na rozvážnu politickú diskusiu o architektúre Únie. Politických rizík sme v tomto roku zažili nad mieru, no situácia sa, zdá sa, aspoň na niektorých frontoch upokojila. Keď odhliadneme od pokračujúcich rokovaní o Brexite a separatistických aktivitách v Katalánsku, diskusia by sa mala sústrediť hlavne na veľké výzvy, ktoré Európu čakajú. Musíme sa vyrovnať s obrovskými demografickými zmenami – populácia EÚ bude najbližších 30 rokov narastať výhradne vplyvom imigrácie, no domáce obyvateľstvo výrazne zostarne. V EÚ tak klesne pomer zo štyroch pracujúcich voči jednému nad 65 rokov na dvoch. Zároveň rastie aj vnútorná migrácia obyvateľov EÚ. Niektoré štáty tak obyvateľov naberajú, iné strácajú. Pred 10 rokmi žilo a pracovalo v inom členskom štáte zhruba 8 miliónov ľudí, dnes 16 miliónov. No a potom sú tu obrovské technologické zmeny – do roku 2055 bude možné v Európe automatizovať až polovicu pracovných miest, i keď sa to nemusí nevyhnutne aj zrealizovať. Navyše narastá aj prevaha služieb and priemyslom. Spoločne Európa tieto výzvy zvládne efektívnejšie. Čaká nás preto dobudovanie Únie. Diskusia na Slovensku by sa ale nemala uberať smerom, či je naše miesto v Únii alebo mimo. Rozumná diskusia bude o tom, ako dokážeme prispieť k spoločnej silnejšej ekonomike a lepšiemu miestu pre život s prihliadnutím na naše záujmy.
"